Making Multiple Reservations for One Guest
---
Making Multiple Reservations for One Guest
Because of how the RV Park data structure was initially developed, a Guest can only have one Arrival & Departure date and Site assigned. Therefore, once a Guest is entered initially, they are considered the Primary Guest. You then need to use the Multiple Reservation tool. The Multiple Reservation tool will automatically create a Duplicate Guest and all you will need to do is enter their Arrival and Departure dates and the Site they will be assigned and save it. When the Primary Guest is Checked Out, the next Duplicate Guest (based on their Arrival date) information will be updated in the Primary Guest and the Duplicate Guest will be deleted automatically.
To access the Multiple Reservation tool, just press the Other Reservations for This Guest button at the bottom left of the Guest panel.

A new panel for Multiple Reservations will be displayed.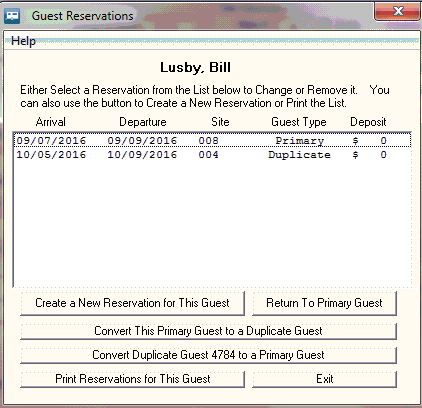 Simply press the Create a New Reservation for this Guest button, and the current Guest information will be used to create a new reservation. It is NOT saved, so you have to enter an Arrival and Departure date and select a Site for the Duplicate Guest before saving them. NOTE: You can enter a Deposit and/or Rate Adjustments, and when the Primary Guest is Checked Out, that information will transfer back to the Primary Guest automatically.
As you add more future Reservations, the list in the Guest Reservation panel will grow, providing you with all Reservations for this Guest.
When the Primary Guest is Checked Out from their current stay, the next Duplicate Guest Reservation will automatically update the Primary Guest and delete the Duplicate Guest. NOTE the Duplicate Guest in Red as opposed to the Green Primary Guest notification.
NOTE: If you have a Duplicate Guest displayed a new button will allow you to change it to a Primary Guest.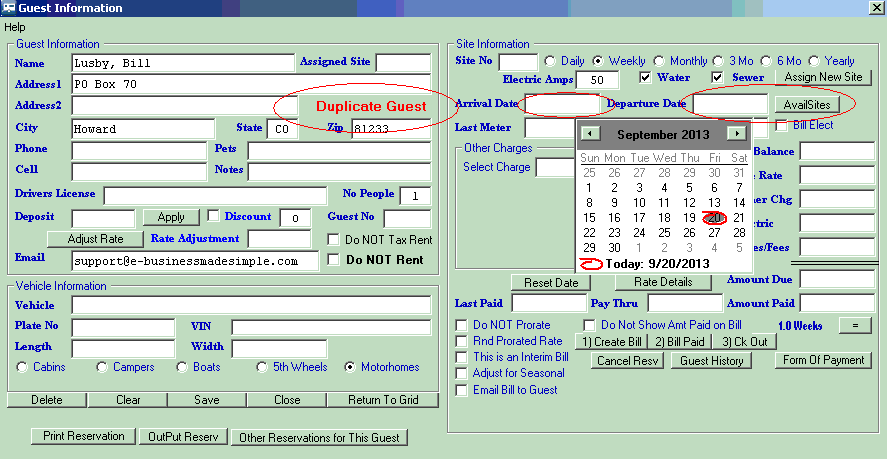 Just enter the Arrival & Departure dates and select a Site for the future Reservation, Save it and your done. See Multiple Reservation Panel for more information.