Flagging a Guest on the Grid and Maps
---
Flagging a Guest on the Grid and Maps
There are times when you would like to "Flag" a Guest on the Reservation Grid and Map Panels. There are many reasons why you might want to do this, one reason (from a Customer) was to remember the Guest specifically requested the Site they were reserved in, and wanted to be sure not to move them to a different site before they arrived. You may have other reasons, or several reasons, but really need to have the Reservation stand out. Therefore, we have added a Light Orange background color to flag a Guest's reservation that is very easy to turn on or off. The way it works is:
1) In the Guest Panel, you check the Flag Guest on Grid checkbox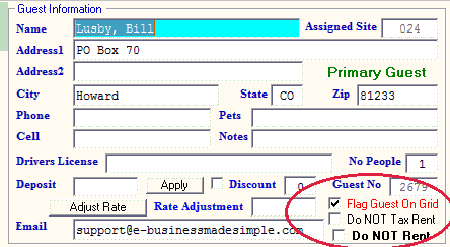 2) It is recommended you also use the Notes field just above the checkbox to provide the reason for Flagging the Guest.
3) Then the grid will look like this:

And the Maps will look like this: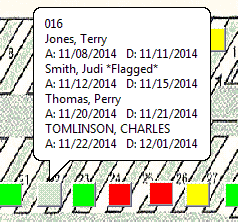 NOTE the "*Flagged*" notation beside Smith, Judi's name.